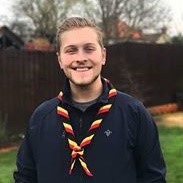 Ollie Smith, our Suffolk Scout County Youth Commissioner, has now been appointed as Deputy UK Youth Commissioner for UK Scouts and as result will be finishing his role as Youth Commissioner once we have recruited a new County Youth Commissioner. He will continue to be involved with Suffolk Scouts and continue to lead our programme initiatives.
He'll join the national youth team headed by Ollie Wood, to work towards the Scout Association's strategic objectives and support over 550 Local Youth Commissioners to ensure that 460,000 Scouts aged 6-18 get the opportunity to shape influence and lead their Scouting adventure working in partnership with adults. Ollie will also support leaders across the UK to enable young people with skills for life.
UK Youth Commissioner, Ollie Wood, says "I am really excited to have Ollie on the team, confusing as sharing a name may be. He has done a wonderful job in Suffolk and I am very pleased that across the UK we will benefit from Ollie's energy, enthusiasm, creativity and his rich experience in the Youth Commissioner role. It has been brilliant to see the positive benefits of having Ollie in post in Suffolk, and I know he will do a fantastic job in this role!"
Ollie, started his Scouting journey at the age of 10, where through Scouts and Explorers he was given the opportunity to shape and lead his own experiences, sparking his passion for youth shaped scouting. At the age of 18 Ollie was made Suffolk Scout's first ever County Youth Commissioner, a role he has held for the past four years. He has worked hard to build a team and embed youth shaped scouting at all levels through the County, whilst maintaining his role as Scout Leader.
He loves international scouting and after attending the World Scout Jamboree in Japan and expeditions to South Africa as a participant, he became the youngest UK Unit Leader with Suffolk's Unit at the World Scout Jamboree last summer in North America.
Professionally, Ollie works in a secondary school and attributes his personal development and successes to his time in Scouts.
Ollie Smith commented, "Scouts has given me so many opportunities, I am always humbled and amazed by our young people and adult volunteers. I am excited to take on this new UK role to ensure young people have a voice in Scouting. Scouting in Suffolk has enabled me with so many skills and a head start to life. I love that in Scouts anyone is welcome, from all walks of life and all skill sets and that what makes us such a great team."
In my time as County Commissioner, I have enjoyed working with Ollie with his boundless energy and passion for Scouting and making a real difference to Scouting in Suffolk. I am very pleased that he has agreed to continue to lead Suffolk's programme initiatives including the current #AdventureContinues. I am sure along with me you will all wish Ollie the very best in his new national role.
If you are interested in becoming Suffolk's new County Youth Commissioner please drop Peter Jarvis a line for more details This email address is being protected from spambots. You need JavaScript enabled to view it.
Best wishes, stay safe and well.
Mark Pearson
County Commissioner – Suffolk