Expect More......
The HQ team have certainly hit a creative streak with the video on this site - www.expectmore.org.uk. Definitely worth having a look at it and then sending on & around.
If you happen to be an adult with time to spare to help with running a group, get in touch with us - Contact Us . One group in particular in Woodbridge is looking for leaders for their teams of Scouts.. so if you can.. Join In !
Suffolk Show 2012 - 1-day only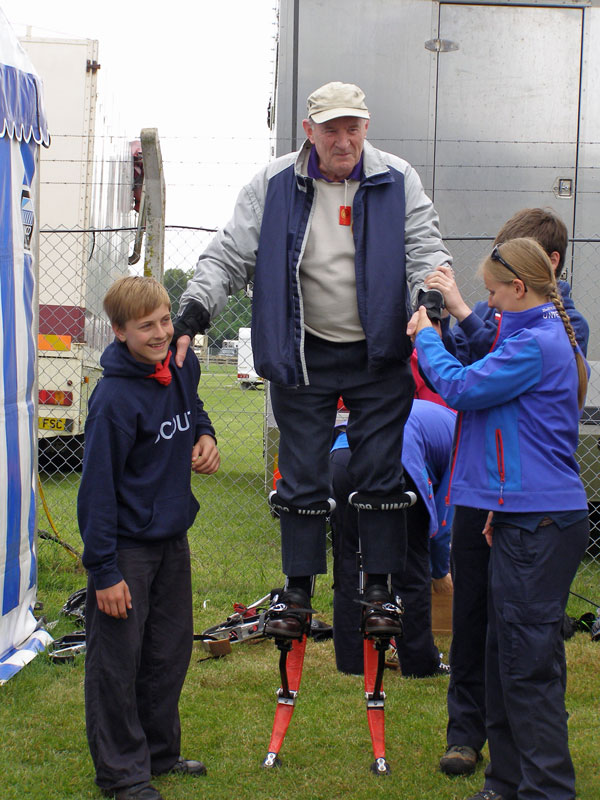 The Scouting prescence at this year's Suffolk show on the 7th & 8th June was made by the Orwell District.
It was a wet and windy affair this year and eventually, the 2nd day was cancelled due to Health and Safety fears for the public attending the event.
The Scouts put on a good show for the visitors and encouraged them to have a go at some of their activities as you can see in the photo where one of the Show Members was trying out some modern stilts - perhaps he knew more rain was on the way!
More photos from the event are in the Photos link (top menu bar) and in the Suffolk Show Gallery.
Jubilee Beacons.. and more!
There were a number of Jubilee Beacons lit by Scouts in Suffolk. One in particular hit the news in Lowestoft and had a report on Anglia TV.. see anyone you recognise?
Free Cycle Racing for under 16's
If there are any Scouts who are into cycling and would like to try their hand at cycle racing, the opportunity is here!
The successful Ipswich Cycle Racing Series is returning for 2012 from Wednesday 13th June for 6 weeks at Trinity Park, (Suffolk showground).
Ipswich MELA in Scouting Magazine
The Diversity team went to the 9th Ipswich MELA. The event is reported on in the FOCUS supplement that arrives with the June/July 2012 edition of Scouting magazine. It can also be found on-line here :
Focus Supplement
Suffolk TV stars....diamonds on the water..?
Keep a look out on Wednesday 30th for Lawrence Chapman and Ross Richardson, Suffolk's Diamond flotilla canoeists who will (hopefully) be appearing in an Anglia ITV News item. Look forward to a water-line report about the experience in due course!
Jenny's Journal - Diamond Jubilee
If you were camping this past weekend, and I know a lot of you were, didn't you choose well?. It has been glorious!
I visited Stowmarket District camp at Haughley Park on Saturday. I was able to present Gerard Brewster, Dave Newbery and Bob Delf with the bar to the Silver Acorn. All done very informally at the Campfire. The Campfire run by Leigh Foster with the help of Stowmarket Leaders was great fun. I love a good sing-song and we certainly sang with gusto.