COVID-19 News Bulletin #9 - 26th June 2020
I hope that you and your families are staying well. I strongly believe as Scouters we are part of a team and there to support each other. The fear of catching Covid-19 may be abating but in one way or another, our mental wellbeing has been affected and for some more than others. I ask you as volunteers that if there are adult leaders you've "not heard from John for a while" or "Sarah seems more withdrawn" that you take the time to call them and just make sure they're ok. If you find someone asks for help, then please (confidentially) help and encourage them to seek out professional medical help, normally through their GP.
We had a very clear instruction from The Scout Association on the 17th March this year, Face to Face Scouting is suspended from that date, which we duly did and continue to respect. As the Government starts to ease restrictions on lockdown, The Scout Association is starting a journey in line with the Government run National Youth Agency to ease aspects of lockdown. Doing this will be more complicated than lockdown and we will each need to put many things in place to enable a staged and safe return to normal Scouting. More details are set out below.
I hope that your sunflowers are growing well for our Suffolk wide support of Age UK Suffolk fund raiser and your dogs have been ably walked by you or young people for 5km to raise funds for young people through the Suffolk Community Foundation Trust. More details for both initiatives can be found at https://www.suffolkscouts.org.uk/adventurecontinues.
Feel free to invite me to your section Zoom/Teams meetings or virtual camps - I'd love to attend.
Best wishes
Mark Pearson
County Commissioner – Suffolk
Virtual PRIDE event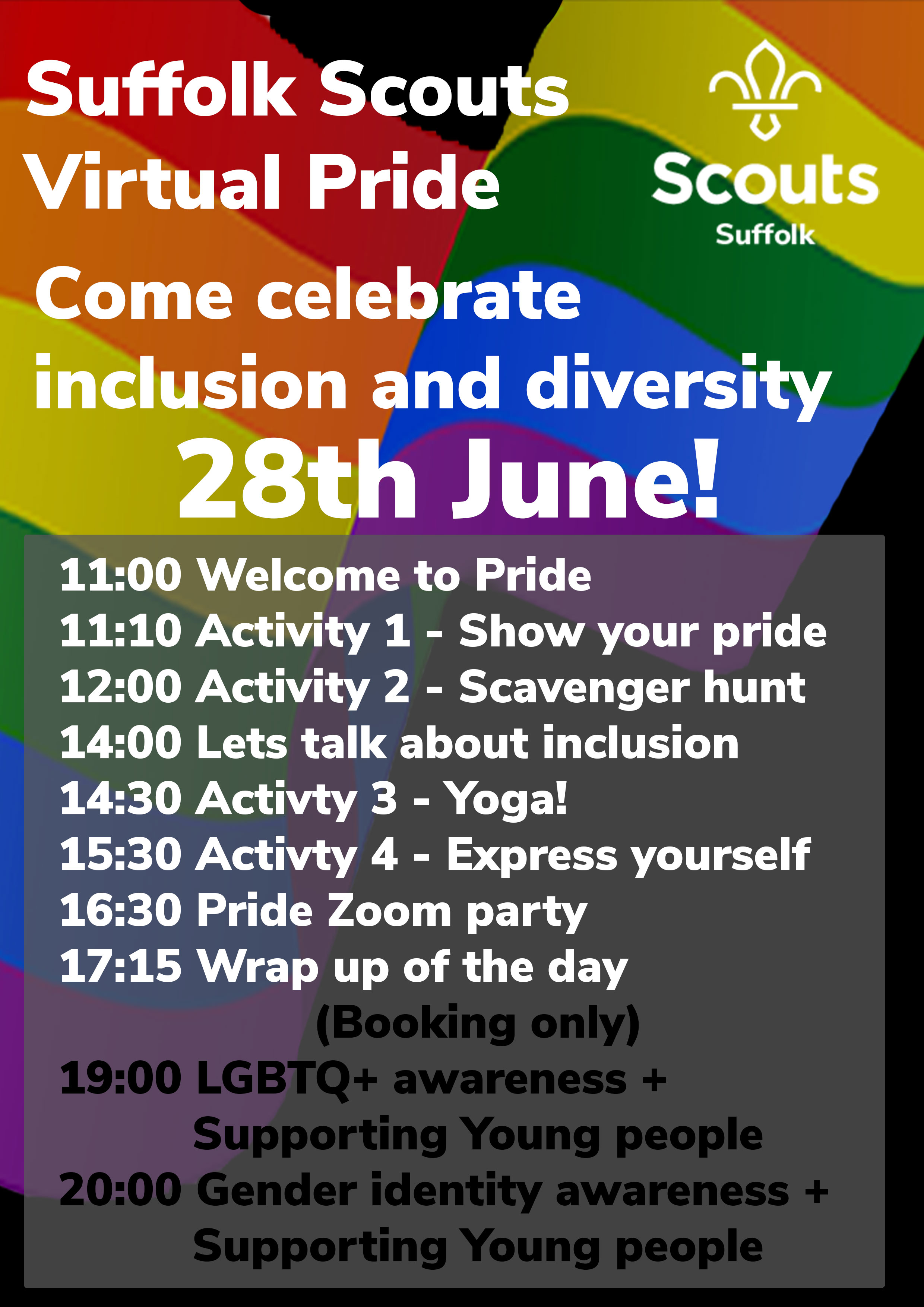 Come and celebrate this pride month with Suffolk Scouts very first 'Virtual Pride'
On the 28th June on Suffolk Scouts main Facebook page, we will be going live using 'Facebook live' and on this website to celebrate inclusion and diversity.
You can find out more here at https://www.suffolkscouts.org.uk/pride
There will be activities happening during the day for everyone (see below) and in the evening for our volunteers, a chance to book on to some informative sessions.
We hope to see you there!
Ollie Smith
Pronouns: He/Him
Deputy UK Youth Commissioner (Programme)
Suffolk Scouts County Youth Commissioner & Programme Lead
#Adventure Continues - Challenge 7 : Helping our Communities
The next #AdventureContinues Challenge 7 is all about you being able to 'Help our Communities. You can find out more details on the link - Challenges and also on the specific links on the menu bar for more details.
Suffolk Coronavirus Community Fund & Gimme5
Police and Crime Commissioner for Suffolk and former scout, Tim Passmore, is urging the Suffolk scouting community to support the Suffolk Coronavirus Community Fund. He recorded a short video for us that you can see here on YouTube
This fund is helping to fight the impact of Coronavirus in our county. Here are a couple of examples of how the fund has already made a difference for young people: Level two youth project and Green Light Trust
Gone Home - Paul Gore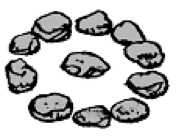 We have recently learned that Paul Gore has passed away after being diagnosed with a brain tumour earlier this year. Paul held many roles and was a life-long scout from Wolf Cub to Assistant District Commissioner in the Basildon (Essex) and Wolsey Districts. He was awarded the Silver Acorn in 2012 and had completed 44 years adult service. He will be missed by many of the leaders and committee members he always had time for. Our thoughts are with his family at this time.
#Adventure Continues - Challenge 6 - Shout about Suffolk
The #AdventureContinues Challenge 6 is all about you being able to 'Shout about Suffolk'. You can find out more details on the link - Challenges