Welcome!
Welcome to the online home of Scouting in Suffolk. We'll aim to bring you all the latest news and resources we can to help you in the day to day fun, challenges and adventures in Scouting, regardless if you're a parent, young person or leader!
We hope you find this website useful and if there's something you would like to see, something we have spelled wrongly or you just want to let us know about something, then please get in touch via the "Contact Us" links!
CMAT does Everest, June 2018
Apologies, I misheard Andrew, I thought he said the highest mountain in
the world - but actually it's only the tallest one in England!
Yes, with the rock climbing and biking weekend now safely behind us, and
what a great time that was, we turn our attention to the next CMAT
expedition to the Lake District, which will be from Friday June 29th to
Sunday 1st July.

All being well, those who want to will have the
opportunity to walk into the area surrounded by England's highest
mountains and actually set up camp for the night in the wild. You will
probably be boiling your water collected from a lake and will be cooking
dehyfrated food just like the Everest explorers. But wait, there's more...
Water & CMAT activities
The application forms/links for two activities are now available on the Activities pages for the
Water
&
CMAT
teams.
Water
: Wet Weekend at Ramsholt is for Scouts & Explorers. Once the registration is sent in, further details will follow.
CMAT
: The Top Ropes training weekend at Gradbach in the Peak District and is open to all who either:
- Hold the artificial top rope leadership permit.
- Can demonstrate outdoor climbing experience (eg through their DLOG)
- Previously held natural rock top rope leadership permit.
NB Suitable candidates will be invited to assessment on 3rd-5th August 2018.
Commissioner's Corner - 'Sup Suffolk - Mar-18
Hello Suffolk
Well the snow has melted and the air is warming up as spring creeps in to cheer us all. Last week I saw the first of the new spring lambs and it gave me such joy to see them playing and finding their feet. These youngsters starting out in life made me reflect on our young people and the journey they make into adulthood, developing new skills and learning from their experiences.
Scouting of course plays a huge role in developing our young people with a skill set not readily available in formal educational settings. We as leaders are educators, each and every one of us. Perhaps not in schools but we provide young people with an education filled with developing invaluable skills for life as well as self-respect and respect for others.
Suffolk, you have been very busy during the last few months, facilitating opportunities for our young people to take part in quality programme opportunities and celebrating our heritage and history. I have had the greatest pleasure of being able to visit just a handful of these fabulous activities and some others have been told to me by leaders excited to share their experiences.
County News Mar-Apr 2018 now available
County News for Mar-Apr 2018 is now available on the website for registered users via the "User Menu" and "County News" link... or here - but you have to log-in to view it. It is also available from the Suffolk Scouts Support Facebook Group for leaders - a closed group you need to request to join on this link - Support Group
If you don't have an account, please request one using the link in the "My Account" area and respond to the follow-up e-mail (check spam/junk mailboxes).
If you have log-in issues, please contact us using the Helpdesk system
We welcome any Scouting stories and can polish up the words if you give us the basic facts...
....we like pictures too BUT please could you send any pictures as JPEG files rather than embedding them in Word documents as it saves a lot of time and will result in a better quality image appearing in the final copy!
The next copy of County News is May-Jun 2018. Copy is required by 27th Apr 2018.
Send everything to the new

This email address is being protected from spambots. You need JavaScript enabled to view it.

mailbox (click on the link to open your e-mail program
CN Archive: Earlier editions and specials are available from the County News Archive link.
Gang Show 2018 - 80 Years!


Just a reminder that tickets for this years Gang Show are still available, you can get yours at our box office on 01473 561004, at Craftability, 4 St Lawrence Street Ipswich, tel. 01473 257550 or through our website at www.ipswichgangshow.org.uk.

The show runs from April 11th to 14th with a matinee on the Saturday.
Don't forget our special offers
For the matinee, Beavers, Cubs, Rainbows and Brownies can buy tickets at only £4.50, this includes leaders and adult helpers all at the same price. A copy of the booking form / poster is attached for your use or just for reference.
Rama's Roundup - Mar/Apr 2018
Thank you to all those who have welcomed me to meetings over the last couple of months. Apologies to those I haven't mentioned.
I would like to start by recognising and congratulating Victoria Campbell, an Explorer with Discovery Unit in Bury St Edmunds. Victoria and a friend witnessed a vehicle come off the road and strike a wall in Ixworth just before Christmas. It transpired that the driver had an epileptic seizure behind the wheel and Victoria and her friend, calmly managed the scene, called the emergency services and summoned assistance until the paramedics turned up. The grateful driver later appealed in the Bury Free Press to locate the "Good Samaritans" and was reunited with his rescuers to say thank you. Well done, a splendid effort in the true spirit of Scouting.
The Ringtail Review - Mar/Apr 2018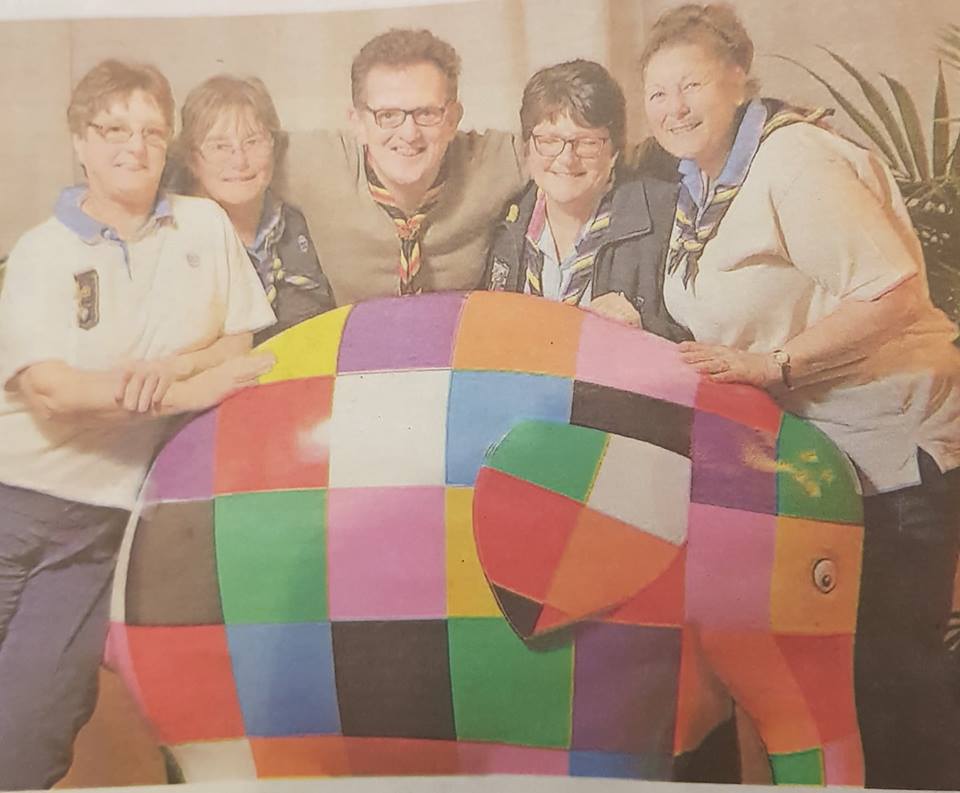 2018 has flown by already, I can't believe it's March already! And I have been already looking ahead to 2019 with the launch of St Elizabeth Hospice's next sculpture trail. Elmer celebrates his 30th Birthday next year along with the hospice and we have purchased an Elmer.
My thanks to my County Beaver Leader Ann Robertson, in Sudbury for arranging a team to decorate this elephant. It will be covered in a patchwork of programme all over but what badges do you wish to include?
Please send your ideas to me to This email address is being protected from spambots. You need JavaScript enabled to view it.
Watch out for more information and Pig in Camp Blankets arrival at Hallowtree.
Happy Scouting
Ringtail
ACC Youth Programme 6-11 years old