Welcome!
Welcome to the online home of Scouting in Suffolk. We'll aim to bring you all the latest news and resources we can to help you in the day to day fun, challenges and adventures in Scouting, regardless if you're a parent, young person or leader!
We hope you find this website useful and if there's something you would like to see, something we have spelled wrongly or you just want to let us know about something, then please get in touch via the "Contact Us" links!
Water Activities - Have-a-Go Day
The water activities team have put on an Have-a-Go day for adults on 23rd September. Details are on the flier below and on the calendar.

Water Activities for 2018/19
The water activities programme for the remainder of this year and next is now published on their activities page
here

A download pdf file is also available
County News May-Aug 2018 now available!
County News for May-Aug 2018 is now available on the website for registered users via the "User Menu" and "County News" link... or here - but you have to log-in to view it. It is also available from the Suffolk Scouts Support Facebook Group for leaders - a closed group you need to request to join on this link - Support Group
If you don't have an account, please request one using the link in the "My Account" area and respond to the follow-up e-mail (check spam/junk mailboxes).
If you have log-in issues, please contact us using the Helpdesk system
Offshore Sailing Weekends 2018
The Suffolk Scouts Water Activities team have booked one of the Adventures Offshore Sail
Training Yachts for another Suffolk County Scouts Offshore Sailing weekend. These weekends have been running for the past six years and they have proved to be very popular.
County Fees 2019
At the County Executive on the 7th June 2018 the Committee agreed that the Membership fee for the County in 2019 would be increased from £7.00 to £7.50 (with no payment for Adults over 18).
The National fee will be set in September and I will let you know the amount in due course.
Keven Mulley, County Treasurer
Rama's Roundup - Summer 2018
It has been great to be able to continue to meet Scouts, Explorers and Leaders over the last few months with visits to Troops in Ipswich and supporting a small group of Explorers to organise a two day Passport Expedition. Thank you to the Scout Leaders from Wolsey for welcoming me to their District Meeting in March and especially to Deben District for inviting me to attend your St Georges Day Parade.
I was also privileged to visit Rendlesham Scouts at Hallowtree to present their first Gold Chief Scouts Award (with more scouts almost there).
The Ringtail Review - Apr/Jul 2018
Spring has certainly sprung and after a spot of "spring cleaning" Pig in Camp Blanket has journeyed up the A14 to Hallowtree and is situated at the top building. He is keeping an eye out as you arrive in the car park. Please say 'Hello' when you pass him. If you would like him to attend your event please could you let me know.
The Easter holiday arrived and went in a flash. I hope you all had a "cracking" time whilst enjoying the break.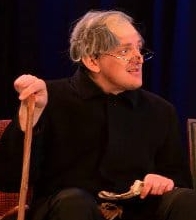 The Ipswich Gang Show celebrated in style as it was their 80th year, I felt proud to be a member of the cast. Well done to everyone on stage, off stage and all around for their help in making it such a success. It was great to see many fellow Scouters enjoying the experience including Jenny Mullan, Ex CC and the DCs from Deben, Orwell and Wolsey at the show. Steve Leach (Wolsey) said "That it was very good and always exceeds his expectations, It's great to see so many people on stage enjoying it!". I was also surprised to see Peter and Janet Jarvis who travelled from Lowestoft who thought it was just fantastic and commented that "I make an excellent 80 year old!"