Skills Academy May-2020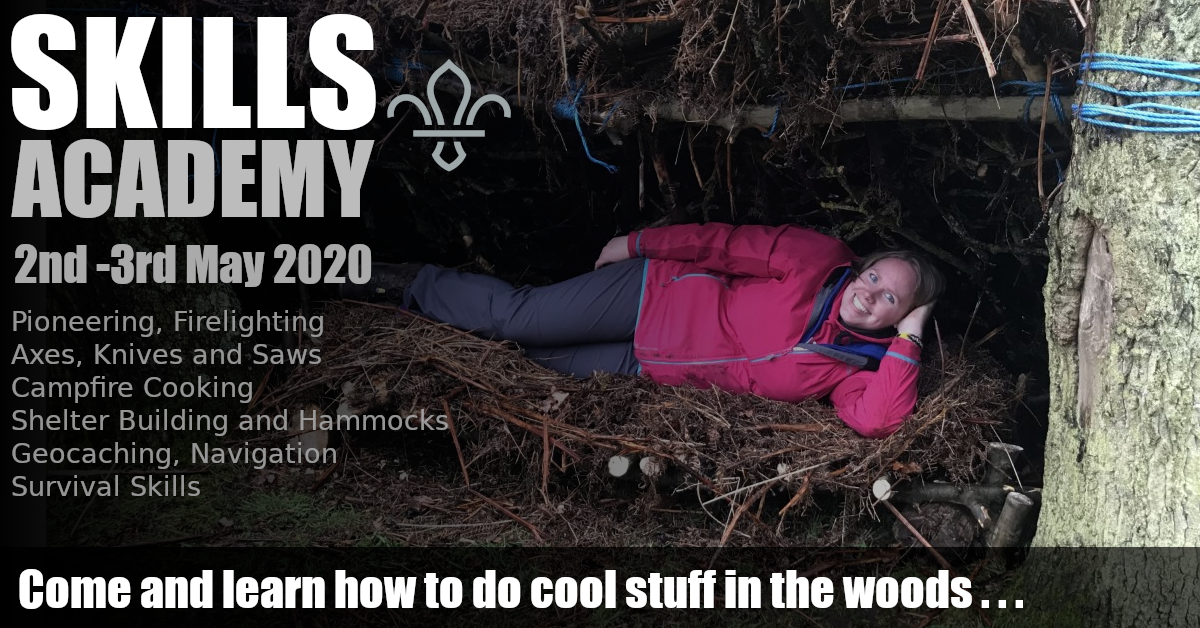 For Leaders
- Keep an eye out for more information when the Skills Academy will be opened for bookings for your chosen sessions....from Firelighting, Pioneering, Knives,Axes & Saws, Campfore Cooking, Shelter building & Hammocks, Geocaching, Navigation, Survival Skills
Come and make an IMPACT!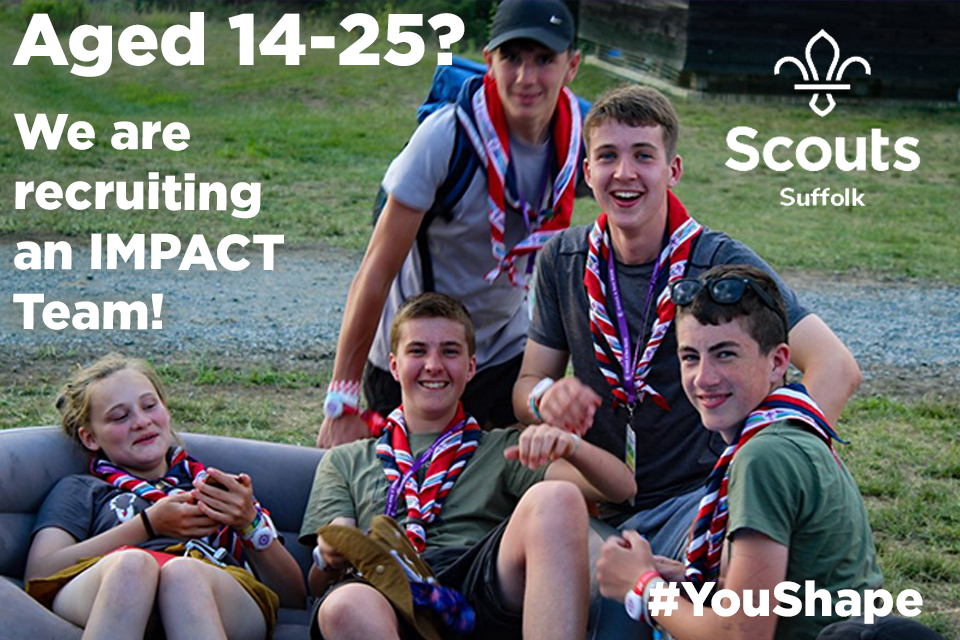 This is an opportunity for Explorers and Network to help shape and influence Suffolk Scouts!
We are recruiting an Impact Team. This is a group of passionate people aged between 14-25 years old who will work together to:
discuss, and have their views and opinions heard about Scouting,
shape and influence the management and governance of Suffolk Scouts
drive and embed youth shaped scouting in all levels of Scouting.
If you are interested or know someone who might be to join the team, please email
Suffolk Scouts County Youth Commissioner Ollie Smith at: This email address is being protected from spambots. You need JavaScript enabled to view it.
Deadline for applying or nominating someone: 31st March 2020. Come and make an IMPACT!
#YouShape #YouthShaped #SuffolkYSS


Gone Home - Jane Chaston
It was announced by her son, Richard (better known as 'Chas'), that Jane passed away on 29th January. Jane was a leader at 6th Ipswich in the past and lately an SAS member in Deben and an occasional helper at 1st Otley. Both her and her husband Colin, have over 45 years service with the scouts and were well known throughout the county for helping at county events - usually organizing the "bogs and bins" as they always liked to refer to it.
The funeral will take place at the Ipswich Crematorium, Colchester Road, Ipswich on 13th Feb at 10:45; no black - uniform welcomed, family flowers only please.


County Lunch 2020
There are a few places left for the County Lunch to be held on Saturday 14th March 2020 12.00pm for 12.30pm lunch at The White Horse Inn, Norwich Road (A140). Stoke Ash. Eye Suffolk IP23 7ET.

This is a informal "non uniform" event with 2 courses for £15.95 or 3 course £19.95 meal with a guest speaker.
For more information or to book a place, please contact This email address is being protected from spambots. You need JavaScript enabled to view it.a.s.a.p. - see event date on Calendar for details.


CMAT - Leader Hillwalking & Assessment weekend
The details for the hillwalking and assessment weekend event in Mar-20 are now available on the
CMAT Activities
page. Please also check the 'Guidance for Hillwalking Permits' document that the team have put together that gives the requirements for these permits.
Please book your place for the trip to Snowdonia before 12-Mar-2020
Service continues for Gordon... 82 not out..
A recent article published by the Suffolk Free Press about one of our Vice-Presidents gives an insight into how scouting has affected him.

You can read what Gordon Biden told Barbara Eeles how joining the cubs at the age of eight was the beginning of a lifelong commitment to scouting ... and at 90 it continues!



CMAT - Hill Walking - Feb-2020
CMAT's next weekend trip will be to the lovely town of Ilkley in Yorkshire's Wharfedale. This takes place from the 8th to the 9th of February 2020, with travel to the area on Friday 7th.
This event is open to Explorer Scouts and adult members who wish to extend their summer hillwalking experience to include possible wintery weather conditions and definitely short action-packed days on the mountainside. There is also the possibility of a night hike with optional navigation practice.