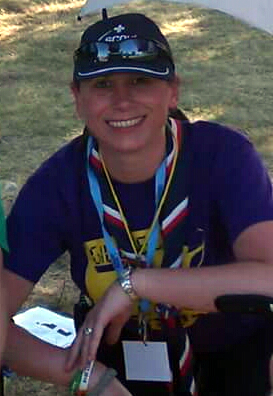 Hello to all you fabulous Suffolk Scouters, I do hope you had a lovely Easter!
I am delighted to have been asked to lead Suffolk forward as your new County Commissioner and am looking forward to getting out and about to meet you all.
I would like to thank Jenny for her wonderful service and true leadership of the County during her time at the reins. Jenny has always remained 'one of us' and cared passionately about not only our fabulous young people, but also the incredible leaders that Suffolk has, each of whom provide such fabulous opportunities for our young people. I share Jenny's passion for our wonderful county and am excited for Suffolk's future.
This is my first posting for County News and of course it needs a punchy title - and for this I need your help! Therefore, I am launching a County competition to come up with a snappy title for my slot in County News.
The only two things I am giving you to work with are...
a) My name is Jane Dickinson and
b) I am County Commissioner.
The competition is open to all scouters both young and old, from every section. Can you suggest a title? Send your suggestions to me please. The competition deadline is 15th June 2017 and the winner and runners up will be notified by the 20th June 2017. Good luck and thank you in advance!
In early April, several scouters from across Suffolk attended the National Conference: Summit '17, and contributed to the shaping of our movement as we move in to the future. Feedback from the event so far is that we have a great deal to be excited about, as we continue to grow and offer scouting opportunities to more of our young people.
Youth shaped scouting is growing by the day, as our fabulous Youth Commissioner's Ollie and Beth are out and about around the county, sharing and celebrating ideas with sections on effective involvement of young people in moulding their scouting experience.
St George's Day celebrations for me were spent with Bury St Edmund's District who had the most wonderful parade, in which scouters gave their final 'eye's left' to Keith Barber, DC of Bury St Edmunds, who is passing on the reins in June after 10 years of dedicated service. A huge well done to all of you, from every District, who gave such an incredible showcase of scouting through your parades and other events, including CMAT who spent St. George's Day in the Peak District and to those who spent the day celebrating at Windsor.
Orwell District Beaver Scouts recently took part in the Beaver County Challenge and raised a fabulous £300 for EACH. A huge well done to all of those who took part and special thanks to Brian Harvey, ACC Beavers, for his co-ordination of the challenge.
The Southern Africa expedition and Explorer Belt is gaining momentum as it enters its final stages of preparation. The leader team recently undertook their final risk assessment visit and I am confident that our young people are sure to have the experience of a lifetime when they head off in July. Of course, we also have another Explorer Belt group who are currently in preparation training for their visit to Poland in 2018. What awesome opportunities our international team are providing for Suffolk Scouts. If you would like any information about international opportunities, please do get in touch with Karen Pettitt (ACC International) or look at the International section, on our website.
It will soon be time to begin preparations for the 24th World Scout Jamboree 2019, which will be held in West Virgina, USA. We are very excited about the WSJ 2019 and what it offers for all scouters, even those who don't get a chance to attend in person. We are waiting on allocation numbers, which will be with us shortly, following which we will begin the application process for Unit Leaders. So watch this space and the international page on the website for further details.
MOOT VI is gathering momentum and will swing into action on the August bank holiday. Booking is open, for what is sure to be an incredible get together. Have you booked your place yet?
I look forward to seeing you there! Suffolk Moot VI - Home
Thank you for all that you do.
Happy Scouting Folks!
Jane.
Jane Dickinson, County Commissioner