Hello Suffolk,
What a busy autumn term we have all had! As always you, our volunteers, have been busy providing opportunities for Suffolk's young people in a plethora of ways. Sections, Groups and Districts have been making the most of the milder autumn conditions by getting young people outside as much as possible and enjoying all that this season has to offer.

Wolsey District Scouts and Sudbury's Cubs both took part in scouting skills days in their respective districts in which many new skills were developed. Sudbury Explorers took part in the Sudbury Jailbreak, which is an awesome large scale 24 hour hide and seek event in which Explorers must not get caught. In Deben, 1st Saxmundham Cubs enjoyed a hike from Thorpeness to Aldeburgh despite it being a terribly windy night along the coast.

The Thorpeness Meare Day was, as always, a barrel of laughter with competition on the water and inevitably scouts and guides getting wet. Sadly, I didn't make it to Meare Day this year, but I went last year and know what a wonderful event it is. The water team as a whole never fail to inspire me. They are such a cohesive bunch of people, who are all about developing our volunteers and the young people that they work with. The same is true of course, of the CMAT folks. Once again, they held a mountain first aid course and a multitude of outdoor opportunities for young people and leaders alike.
In the Beaver section, Bury St Edmunds Beavers took part in their annual 'Beaveree' which involved a plethora of activities designed to challenge the young people and to develop problem solving skills. This event is always superbly run under the guidance of Margaret Chilestone, (ADC Beavers, Bury St Edmunds), and her team of adult volunteers and young leaders. In addition, the Beaver Sections from across the District took part in a sponsored walk, raising over £1500 for St. Nicholas Hospice Care. The article can be found here, weren't they just wonderful? https://www.eadt.co.uk/news/suffolk-beavers-raise-money-for-hospice-charity-1-5777518?fbclid=IwAR2zl1rMtpExozb3KtbMXNCYmVg821L7UOXRpnlD-SiHIJh4tydkp5tuKN4
Lakenheath Beavers took part in 'Sleeps 'til Santa' on Heart FM, and the 26th Ipswich took over the airwaves of Radio Suffolk for 'Take over Tuesday' in which they discussed all sorts of scouting activities with one of The Scout Associations Ambassadors, Dwayne Fields. What a super job they did of raising the profile of our fabulous movement.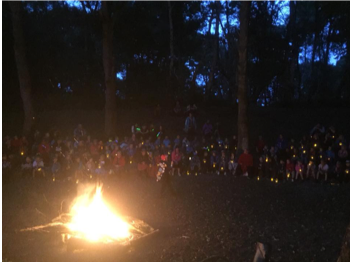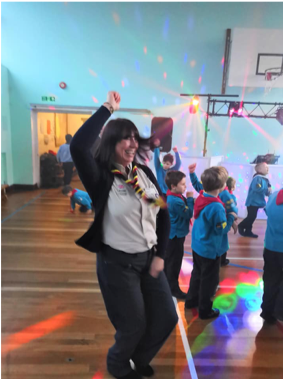 Lowestoft Beavers held their District Camp and had the most wonderful time, finishing off with a lovely campfire singalong. It fills me with glee to see Beavers having the opportunity to camp. Lowestoft Beavers also held their Christmas party in early December which was such fun. I had a good old jig to Gangnam style with the youngsters who were far more talented at 'flossing' than I am! During this party I had the pleasure of presenting Gemma Eglington with her 'Award for Merit'.
The World Scout Jamboree participants took part in numerous training activities, in preparation for their adventure next summer and we recruited an awesome team to lead the European Jamboree contingent to Poland in 2020.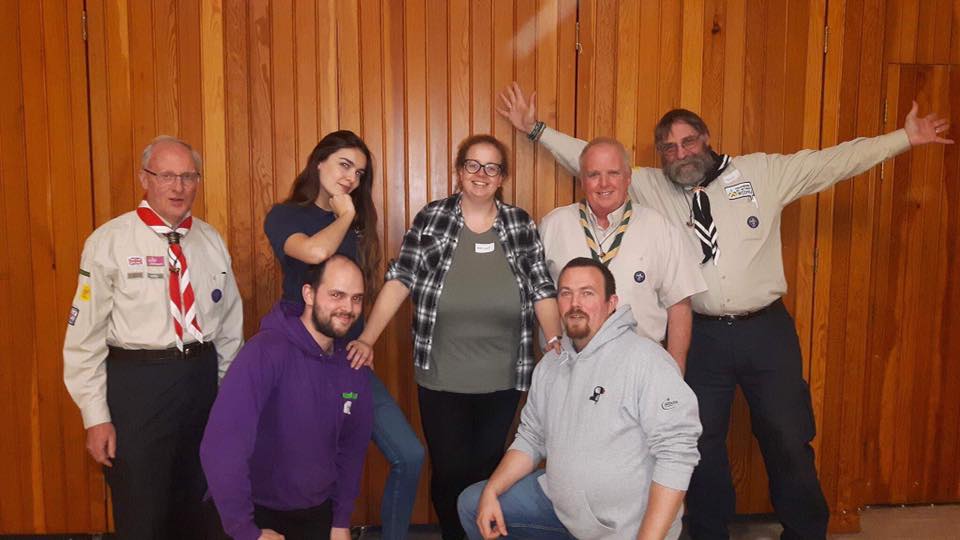 This team (pictured here), led by Keri John, the Youth Commissioner from Bury St Edmunds, are planning their recruitment day for participants in January as I write and I am so excited for the opportunity our young people will have on this event. More details can be found here https://www.suffolkscouts.org.uk/2016-07-27-10-19-44/eurojam-2020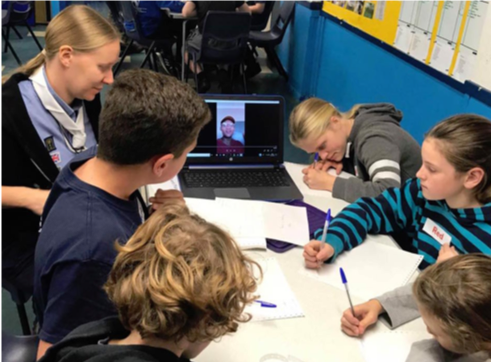 In Deben, a new Explorer Unit hit the scene in the form of SWARM! I will be following the development of this awesome new provision with excitement. 5th Woodbridge Sea Scouts took part in an international evening, where they designed badges for the South Africa partnership and received communication from Tumi, one of the Leaders from the NW Province.
Throughout the County our young people and adult volunteers paid homage to those who have fallen in a multitude of ways, including decorating villages and towns with poppies of remembrance and attending church services and parades, to commemorate the 100th anniversary of the end of World war 1. Such events are so very important to the scouting movement. We will never forget.
1st Pakefield Scout Leaders were shortlisted in the final of the 'Stars of Lowestoft and Waveney Awards' for their contribution to the community in the Uniformed Services category. Although they didn't win, the nomination demonstrated just how valuable scouting is to communities and young people. Congratulations guys.
So many of you were out and about for Bonfire night celebrations, from the small sectional events around a barrel fire pit, to campfire circles and more traditional services. Sales of marshmallows and hot chocolate were certainly on the up from these events in local stores I suspect. 1st Eye held their AGM on their bonfire night celebrations, whilst holding a tightly fought 'Best Guy' competition in the Scout Section and an all section Conker Championship. What a superb event that was during which Oliver Grimes and Tim Charles gave a presentation about their amazing Explorer belt adventure in Oman earlier this year.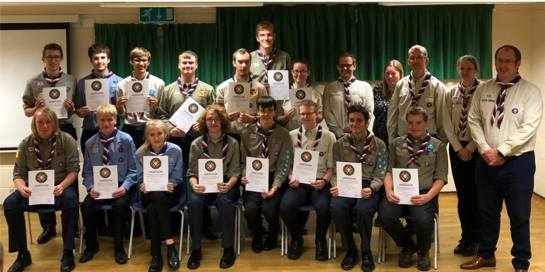 This Autumn saw two other Explorer belt presentations, both of such high calibre, myself and the rest of the judging panel were totally blown away. The Poland Explorer Belt Team gave a most inspirational set of presentations in which it was clear that so much had been gained from the experience, not only on a personal development level but also on a cultural level. I learnt a great deal about Poland that evening and thoroughly enjoyed the presentations. I also had the privilege of being invited to sit on the panel for the Germany Explorer Belt presentations. This small team, was completely Youth Led, from inception of the project right through to the presentations. The team, who all gave us such an insight into life on the Rhine, approached their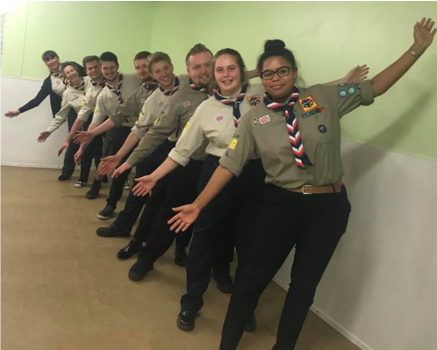 DESC (Orwell) the year before and said…'We would like to plan a belt expedition to Germany'. Rob Bridges said, 'OK…make it happen then!' And so, under the eye of a small leadership team, the Explorers and Networkers involved did just that. What these two presentations showed the audience more than anything else, was that young people are capable, skilled, intuitive and determined. These traits are exactly what we stand for within our movement and will stand the young people in such greater stead when it comes to the next stages of their lives, whether that be in academia, in their professional lives, or in the family unit. The associations new brand and tag lines are so much more than just words. Scouting really does deliver 'Skills for Life'.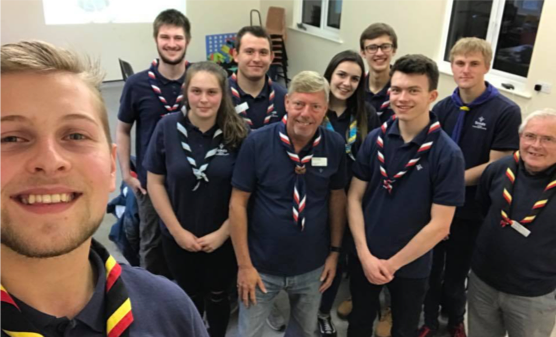 Peter Jarvis, Keith Barber, Ollie Smith and myself had the pleasure of attending the National AGM in September held during Gilwell Reunion weekend. It was the first time I have stayed at Reunion and it was just wonderful seeing so many groups there making the most of the time to bond as leaders and to develop new skills.

The National AGM, as it always is, was a really positive event and during this the new UK Youth Commissioner, Ollie Wood, was introduced as we said farewell to Hannah Kentish after three years in the role. Our own Youth Commissioners here in Suffolk are doing such an incredible job in supporting their respective districts both at the sectional level with programme support, but also their district teams. Ollie Smith, Suffolk's County Youth Commissioner works tirelessly to support them in all that they do and recently hosted a youth commissioner forum, to discuss strategies for supporting all things Youth Shaped. This was attended by Peter Jarvis and Keith Barber, as well as Graham Woolley, the Regional Commissioner.
The County AGM in September was held at the The Priory School in Bury St Edmunds and was a lovely showcase of some of our highlights this year. It was most fitting that we held it at The Priory, as I recently asked Lawrence Chapman, who is Head Teacher, as well as ADC Adventurous Activities in Lowestoft, to take on the role of ACC for Inclusion. Lawrence's knowledge is invaluable to us as scouters as developing strategies for making reasonable adjustments for our young people can be daunting. Lawrence's expertise is already proving useful, as he regularly posts top tips and ideas on our Suffolk Leaders Facebook page and is always available if you need advice. Lawrence recently opened a Cub Pack and Scout Troop within the school, which is proving very popular. If any leaders would ever like to visit the Priory Group, please do let Lawrence know as he will happily arrange for you to come along and join in the fun, whilst hopefully picking up strategies for inclusion and making reasonable adjustments.
At the County AGM I had the greatest pleasure of presenting the Chief Scout's Meritorious Conduct Award to Victoria Campbell, a young Explorer from Discovery Unit in Bury St Edmunds. The award was most deserved following Victoria's actions, along with her close friend Charlotte, in swiftly aiding a man following a car accident last year. In addition to this special award, Andrew Webber was presented with his Medal of Merit; Brian Roe received his 30-year award and our wonderful County Chairman, Peter Jones, received The Chief Scouts Commendation for Services to Scouting.
I recently asked a small team of very experienced scouters from across the County to form a County Awards Board. They have now met and will shortly be placing a nomination form on to the website for you to upload applications for awards if you wish. This facility is available to everyone, even if the award is deliverable at the District Level. The aim is to provide an objective decision to awards, which is timely and relevant to the nominee. Suffolk is not as strong as it could be in delivering thanks to those who give their all and we want to change that by offering a consistent way of recommending awards. Once the webpage goes live, all awards above the Award for Merit should be submitted via the online form. All those up to the Award for Merit are at the DC's discretion, although the board will happily process them if you prefer.
Stowmarket welcomed their new District Commissioner this autumn. Nickie Phillips has joined my team and brings with her a wealth of experience and knowledge. I am truly excited for the future of Stowmarket District. At their recent carol service, Nickie was able to present several awards, including a 40 years of service award to the lovely Rod and Margaret Pedge, both of whom are a part of the Special Active Service and are always there, as all SAS members are, to provide support to Groups, Districts and the wider County whenever it is needed.
In October, I had the greatest pleasure of attending the SAS Rededication Service in Kedington, Sudbury. It was a truly lovely service, organised by the SAS and of course Graham Baker, the ACC for SAS. Graham will be standing down in March, as he takes on a new role in his District of Stowmarket. I would like to thank Graham for all of his hard work over the years, working with Jenny and then myself. I wish him all the very best in his new role.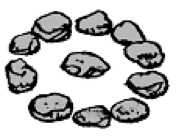 Shortly before the service we learnt the sad news that Richard Freeman, one of our Vice Presidents had gone home following a short illness. Richard's service to scouting in Suffolk spanned over 60 years, in which he held many roles from Assistant Scout Leader, County Commissioner, County Chairman and County Archivist. He will be greatly missed by all who knew him. Our thoughts are with his family and friends this Christmas.
The Regional Commissioner, Graham Woolley recently held the first of three forums for leaders from across the region who face the challenges associated with rural scouting. Matthew Burrell (Norfolk's CC) and I attended and found it a most useful discussion. Some of the challenges that rural groups faced included the visibility of scouting, along with Wi-Fi and internet provision in remote areas. The attendees gained from attending and we learnt more from them about some of the issues they face so that we can factor their needs into development strategies.
Speaking of development, Keith Gleen is the ACC for Growth and Development. As a part of the strategy, we aim to offer scouting to as many of those young people who need it as we possibly can. If you have any ideas for where a new provision is needed and have an idea of a venue, please do let Keith know. You can find his details on the County Team page on the Suffolk Scouts website.
In October, the training team held yet another top-quality training academy which equipped our adult volunteers with the opportunity to develop a better understanding of our programme and how to deliver scouting safely. One of the best parts of these fantastic weekends is the opportunity for leaders to network and to share ideas with one another. Thank you, as always, training team for all of the amazing work that you do including the provision of local learning month throughout November.
Alfie Green, the County Training Manager, along with his team are always at the heart of providing quality training for our adult volunteers. Alfie recently produced an app for the new yellow card that has now been updated and released by HQ. You will shortly be able to find the app on your app store. The Yellow Cards are available for order in hard copies now from Scout Shops. Please line managers, do ensure that all new applicants are aware of and have a copy of the yellow card https://members.scouts.org.uk/supportresources/3099/young-people-first-code-of-good-practice-for-adults-yellow-card.
These dispatches have been very long, as I haven't written for a while. But I wanted to save my penultimate remarks for a special County Commissioners Commendation presentation I made to two wonderful people from the 13th Ipswich. Max Raffe, GSL, wrote to tell me about Peter Thurston, Group President and Jeanette Hodder. These two fine people are a part of that silent movement that operate in the background, asking for nothing in return, raising funds so that young people can experience the opportunities of outdoor activities such as sailing. Peter and Jeanette have been a part of the group for over 50 years, working in the background as many on our committees do. I made the presentation at the 13th's annual art exhibition, which I can highly recommend. Peter and Jeanette's families were there, although neither Peter or Jeanette (niece of the group's founder and former CC, Derrick Pearce), knew why! The presentation humbled me greatly. We are indebted to our committees, we really are.
My last comments surround one of the projects that my team has been exploring over the autumn. After many meetings and scoping projects, I am now delighted to be in a position to announce that the Suffolk International MOOT 2021 will take place in the first week of August 2021. I can also confirm that it will be, as always, a shared event with our sisters in the Guiding Movement and it will have an international element to it. The principal focus will be on outstanding programme opportunities for Scouts and Explorers and that Network and Cubs will also have opportunities to participate. There will also be provision for leaders to undertake opportunities whilst on site if they wish. The Suffolk MOOT's that have been held over the last 30 Years under the guidance of David Clements as Chairman have been second to none, and I thank David and his teams for all of their incredible work over the years. Scout and Explorer Sections, please could you consider planning in the MOOT as your Summer Camp for that year, so that we can really put this event on the map. Suffolk, the legacy of the MOOT will continue and it will grow, just as we ourselves do, in this wonderful movement that we belong to. Please keep an eye out for recruitment campaigns and application details over the course of the next year.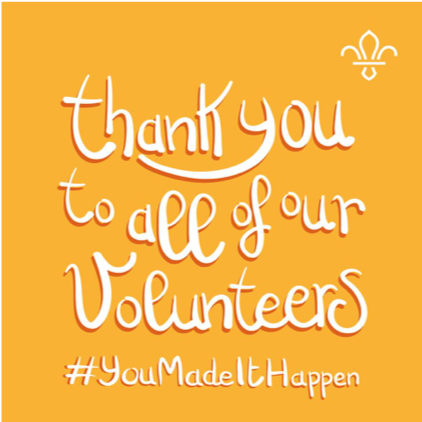 Suffolk Scouters, I thank you, each and every one of you. You are appreciated so very much, not only by those who proudly work with you but, by the young people whose lives you change.

I wish you all a peaceful break.

Merry Christmas and a Very Happy New Year to you all.

Jane Dickinson
County Commissioner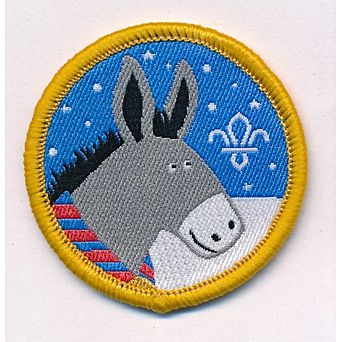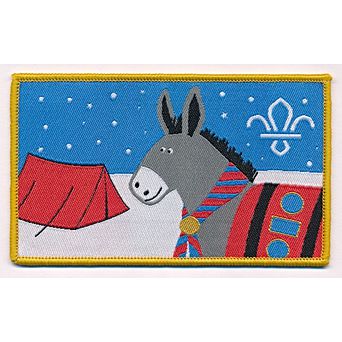 Christmas Fundraising Donkey Badges 2018.

Available from Scout Shops Special Fundraising site.