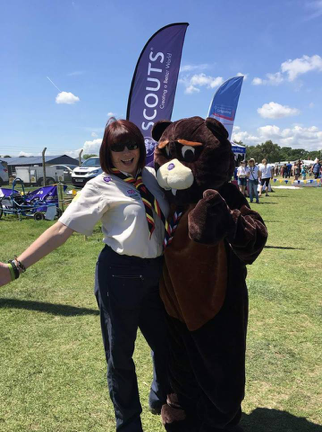 Wassup Suffolk!
These are my final notes as County Commissioner and I would like to take this opportunity to thank each and every one of you for the amazing work that you all do, for young people across the County.
As I move on to new adventures, I am left humbled by the dedication that you all put in to developing young people and to the support you give one another as adult volunteers.
Suffolk has always had a 'can do' approach to scouting. So many of you, who are already so very busy, always find the time to go that extra mile and sit on that extra planning team. I truly appreciate all of the work that you do.
The Suffolk Teagulls Unit, the Iceni Unit and those in the IST are just about to head off to West Virginia for the adventure of a lifetime at the 24th World Scout Jamboree. Their leaders and supporters have worked tirelessly to ensure that training is complete and now it is time for them to enjoy the global village that is the WSJ. I wish them all a safe journey and know that lives will be changed as a result of this incredible experience. In addition, the EuroJam Team are getting closer as a unit every day and have already forged strong friendships in their planning for Poland 2020. I wish the team all the very best in their travels.
Of course, with my departure comes a new leader for the County. Mark Pearson will take over the reigns as CC from Wednesday 10th and I know that he is keen to get around and meet as many of you as he can in his first few months. Mark and I have met and I am sure that he will do a fantastic job, leading the county forward. When we spoke, I tried to sum up to Mark what I think makes Suffolk so great…..I am sure there are many of you who will agree….It is a very simple formula ..........
'Great programme, safe opportunities and invested in Adult volunteers makes great scouting happen'. It is practicing this that makes us great.
I have always believed in this formula and have always kept it at the front of my mind when developing strategies with the managers that lead and support you.
All of us as adult volunteers have the privilege of working in teams with the common goal of improving the life skills for young people. The work I have undertaken with my County Team has been just such a privilege. Their talent, passion, tenacity, vision and support has made my role so much easier as CC, and we have seen huge leaps forward in opportunities delivered as a result of their guidance and support to our volunteer body.
Your DC'S are just remarkable folk and just like you, work tirelessly to ensure that this wonderful movement we all belong to is the best for young people and adult volunteers as it can be. I thank each and everyone of the eight DC'S for being such a wonderful force for the county.
The training you all have access to in this county is second to none, thanks to the work of Alfie Foster-Green and his incredible team, I have loved the opportunities of presenting on the training team and thank them all for all that they do to ensure you have a quality provision.
Our provision for training adult volunteers and giving young people opportunities on the water, gets stronger and stronger, and the work that Leigh Foster-Green and the rest of the wider water activities team has made (and continues to make) such a huge impact on aquatic adventures.
Our management of International opportunities is superb and Karen Pettit continues to put quality assurance of the international programme, as well as safety at the top of her ACCI agenda. As a result we have had a plethora of incredible opportunities for young peoople in international settings, many of which have been completely youth led. This will come as no surprise I'm sure, as Suffolk are truly beacons for Youth Shaped Scouting thanks to the passion that Ollie Smith and his team have put into young people shaping their scouting journey.
We have the most wonderful ACC for Inclusion, in the very experienced Lawrence Chapman, as well as our very own member of the amazing SAID team, Nickie Phillips (DC Stowmarket).Do continue to use their knowledge as as resource folks, for making reasonable adjustments is not difficult and can make a lifetime of difference to a young person.
The sectional ACC'S have always given so very much to ensuring that programme developments are supported and utilised at the group level. Peter Gibbs (ACC 11-18yrs) along with Matt Gilbert (ACC Network) have worked tirelessly with leaders to ensure that as many young people as possible have access to those top awards. It is likely that we will see record numbers of Queens Scout Awards achieved this year and I must pay homage to Jamie Mortimer and Tom Donalds from stowmarket for all of their work in driving the QSA forwards too. You guys are awesome.
I would particularly like to mention the County Executive in these dispatches. This group of quite incredible people, ably guided by Peter Jones the County Chairman, in many ways the unsung heroes of scouting. They meet regularly to review risks and to ensure that the financial management and provision is secure, so that scouting can happen unhindered. I have truly loved working with the executive and will miss you all dearly. Thank you all.
My penultimate thanks, I save for two of the most wonderful scouters I have ever had the privilege to work with. My two deputies, Peter Jarvis and Keith Barber. These two, highly experienced managers have guided me through both calm and murky waters without ever faltering. They have provided me with wisdom, positivity, strategic support and most importantly FUN! I will treasure you gents always. Thank you lads.
Finally, before I sign off, my final thanks go to YOU...
YOU the section assistant that squeezes in time every week to support that pack; YOU the leader who works and fills in family commitments, yet still runs a quality experience for other young people; YOU the GSL who tirelessly supports your group and stands in whenever needed; YOU the SAS member who always gives time so willingly to support your fellow leaders; YOU the TA that drives to meet with volunteers to ensure that training is validated; YOU the skills instructor that shares your awesome adventurous skills with so many, YOU that CMAT member who ensures that young people have access to such a quality hillwalking experience; YOU the ADC who keeps programme at the heart of what we are about and supports leaders whenever they need it; YOU the AAC member who consistently ensures that the right people are put in leadership roles; YOU the executive member who silently manages the assets that we all need to make sure scouting happens.
YOU...the adult volunteers. You are truly amazing and I am privileged to have played a very small part in your scouting experience.
Keep doing what you do Suffolk. You are truly the best there is.
If you should find yourself in the UAE, please look me up and say hello. 😊
CC...Over and out.
Jane xxx