The Ringtail Review - Autumn 2018
"Autumn days, when the grass is jewelled
And the silk inside a chestnut shell
Jet planes meeting in the air to be refuelled
All these things I love so well"
The nights are drawing in but it this hasn't stopped the 6-11years enjoying themselves, Sixers and Seconders camps and group camps have taken place in Wolsey. Lowestoft Beavers had a fantastic camp at Herringfleet. Wolsey District had a splashing time at the Swimming Gala.
As I sit and write my final Ringtail's Review I would like to thank everyone past and present for their help and encouragement throughout these years.
The Ringtail Review - Aug 2018
School was out for Summer and it was on with plans for our big day. Margaret and myself got married at the Holiday Inn, London Road at the end of July.
It was lovely to celebrate with many friends from our Scouting Family. Many thanks to all those from the Beaver family who gave us many presents to help us celebrate. Our special thanks go to Gemma Eglington for organising these surprises.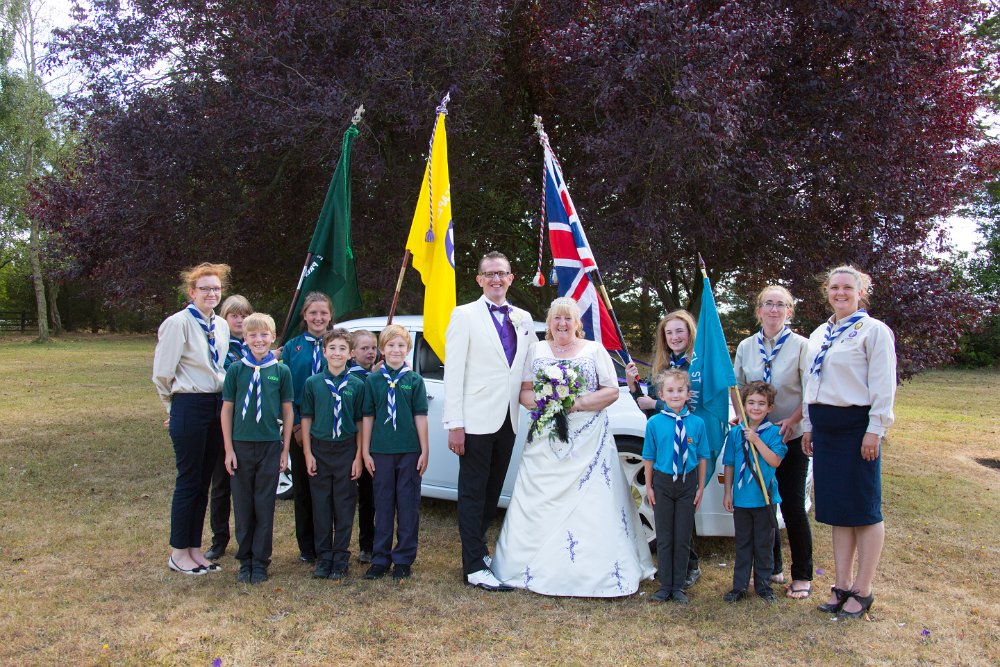 1st Capel Scout Group treated us to a guard of honour and I couldn't have gone wrong without my best man Lee Warvill. The day was topped off with best wishes from Jacob, the young beaver from Canada and his family.
Looking ahead to the Autumn, Lowestoft Beavers will be camping at Herringfleet in September and I am sure everyone across Suffolk will be going out and exploring the dark nights.
Keep Safe.
Ringtail
ACC Youth Programme 6-11 years
The Ringtail Review - Apr/Jul 2018
Spring has certainly sprung and after a spot of "spring cleaning" Pig in Camp Blanket has journeyed up the A14 to Hallowtree and is situated at the top building. He is keeping an eye out as you arrive in the car park. Please say 'Hello' when you pass him. If you would like him to attend your event please could you let me know.
The Easter holiday arrived and went in a flash. I hope you all had a "cracking" time whilst enjoying the break.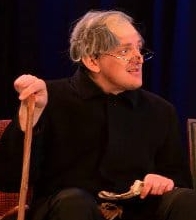 The Ipswich Gang Show celebrated in style as it was their 80th year, I felt proud to be a member of the cast. Well done to everyone on stage, off stage and all around for their help in making it such a success. It was great to see many fellow Scouters enjoying the experience including Jenny Mullan, Ex CC and the DCs from Deben, Orwell and Wolsey at the show. Steve Leach (Wolsey) said "That it was very good and always exceeds his expectations, It's great to see so many people on stage enjoying it!". I was also surprised to see Peter and Janet Jarvis who travelled from Lowestoft who thought it was just fantastic and commented that "I make an excellent 80 year old!"
The Ringtail Review - Mar/Apr 2018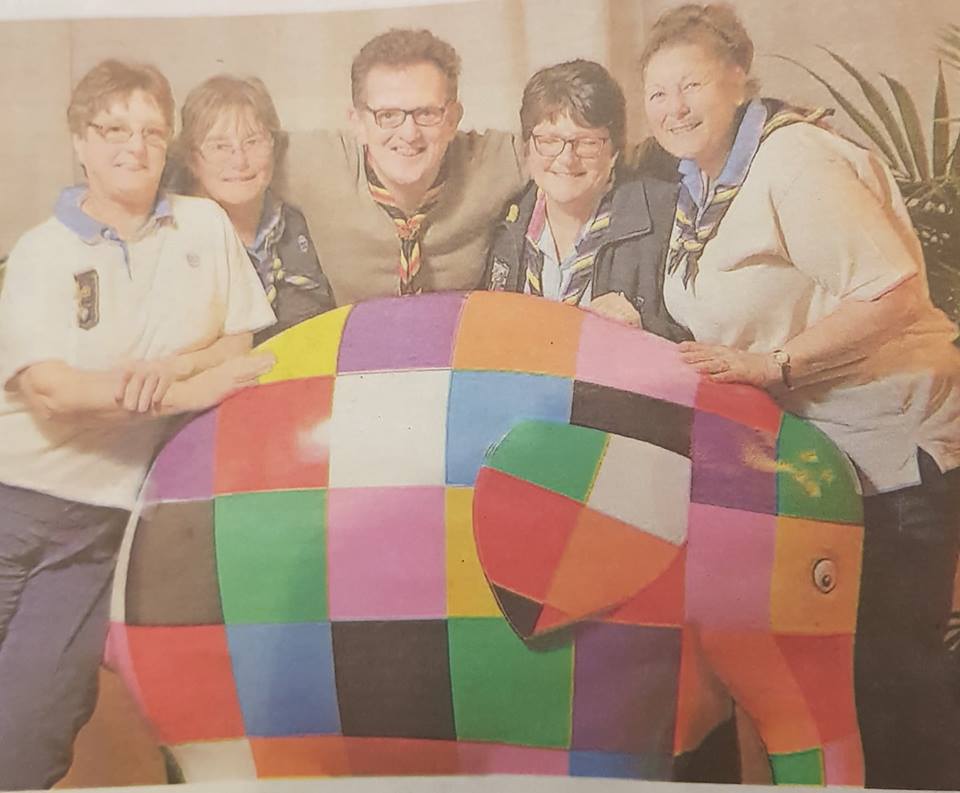 2018 has flown by already, I can't believe it's March already! And I have been already looking ahead to 2019 with the launch of St Elizabeth Hospice's next sculpture trail. Elmer celebrates his 30th Birthday next year along with the hospice and we have purchased an Elmer.
My thanks to my County Beaver Leader Ann Robertson, in Sudbury for arranging a team to decorate this elephant. It will be covered in a patchwork of programme all over but what badges do you wish to include?
Please send your ideas to me to This email address is being protected from spambots. You need JavaScript enabled to view it.
Watch out for more information and Pig in Camp Blankets arrival at Hallowtree.
Happy Scouting
Ringtail
ACC Youth Programme 6-11 years old
The Ringtail Review - Jan/Feb 2018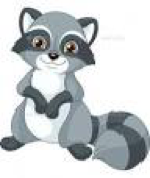 It may have got chillier but the weather has not stopped the 6-11 year olds of Suffolk exploring and continuing to carry out great Scouting.
The Smartie Challenge has finished on a very high note with Debenham Beavers raising £50 for the local hospice HOPS, which came and ran a disability evening and where the cheque was presented to them at the end of the evening. And to top that I was invited to go along to the TOPCATS grand opening of their sensory room. This fantastic resource was completed with their money raised by the Lowestoft Beavers. I was unfortunately unable to attend the event but I asked Gemma, acting ADC Lowestoft to go on my behalf. Gemma felt blessed knowing that her colonies have helped in such a tremendous way and helping their local people.
The Ringtail Review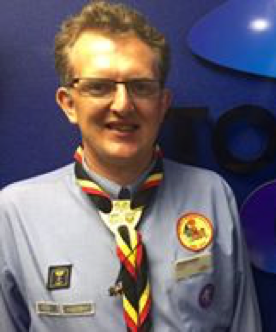 Beavers/Cubs - November Update

Autumn days when the grass is jewelled and the dark nights start drawing in – BUT worry not youngsters from the Beaver and Cub sections are busy as usual and not letting the cooler dark nights stop them.
It maybe dark outside but I'm looking ahead to a bright future Together: as one we can focus on giving the young people of Suffolk more opportunities to gain more badges and gaining greater experiences and memories for all.
Thank you to all those who attended my meeting at the Guiding centre Stoke Ash, it was fantastic to put names to faces and putting our steps on the yellow brick road. This is a great adventure and I'm looking forward to moving in a new direction with you all.
The international fund and working with Mafeking is a great opportunity to show our fellow scouters how superb Suffolk is and I am sure we can support them.