As the warmth of September fades into the more autumnal weather of October, Scouting in Suffolk continues to thrive. Leader training is increasing as Leaders return to sections. Plans for activities next year are developing well and there is much to look forward to.
YouShape Award Launch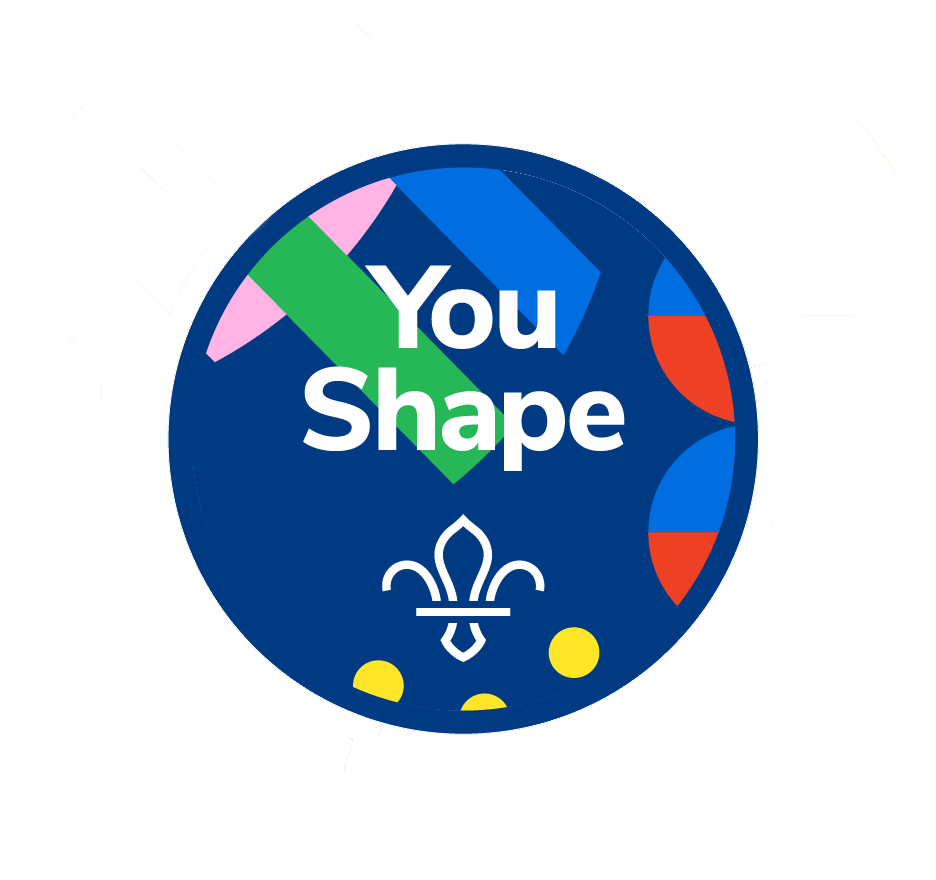 The new badge, one basic design but with different colours for each section, has 4 parts with the outer ring elements for Lead, Plan and Represent activities added as they are completed. Progress is not transferable between sections as each has different requirements.
Read more about the new You Shape award here.
Strong Growth in Adult Volunteers
Since the 1st March, Suffolk Scouts have shown very strong net growth figures for adult volunteers. Figures excluding Occasional Helpers show that whilst we have lost 79 volunteers we have gained an amazing 138 new volunteers. A net increase of 59. I'd like to welcome you if you are reading this newsletter as a new volunteer and to say thank you for volunteering and helping to prepare more young people develop their skills for life. Well done to all of you who have recruited new members. Please contact This email address is being protected from spambots. You need JavaScript enabled to view it. and the growth team if you would like advice on recruitment.
World Scout Jamboree
Think big. Dream wild. Act Together.
IT'S TIME TO APPLY!
We are now accepting applications for the World Scout Jamboree and we need your help to share and encourage your Scouts and Explorers to consider applying for this 'Roarsome Adventure'.   All the information is available on the Suffolk Scouts website including information about the Jamboree and the application form here – WSJ Webpage
In line with the sustainable focus of the Jamboree, we have chosen to hold two Zoom sessions to talk about the Jamboree and answer any questions from your young people. These Zoom sessions will be on Wed 13th and Tue 19th October at 7.30pm.  You need to register for the calls to receive the call details – links on the WSJ Webpage.  If you would prefer us to come and visit your Troup / Unit in person, then please let us know.
As the WSJ website says, "We dream about a sustainable world, where everyone's welcome, but we're not just about dreaming,  Scouts want to see action too.  Our UK Contingent won't silently creep round global issues, we'll be trailblazers for getting young voices heard… You're gonna hear us roar". 
We are so excited about the adventure ahead and thank you for your part in supporting and sharing this information so we can take a team from Suffolk to think big, dream wild and act together.
Karen Payne, Unit Leader Marcus Burch, Deputy Unit Leader
Annie Jones, Assistant Unit Leader Lucy Seary, Assistant Unit Leader
Suffolk Reenergise – A Support Event 20th /21st November
Over the two days there will be stands providing information and ideas on a variety of topics, including programme and training at the Hallowtree Activity Centre.
The weekend will give an opportunity to catch up with old friends, meet new friends, chat and chill out together, share ideas and have some fun. Over the two days you can come and go as you wish, stay for an hour, half a day or a whole day. If one day isn't enough, come back for the second.
It's possible there is another leader you haven't seen for a while, you could arrange to meet for coffee and catch up at Hallowtree that weekend, take a packed lunch with you and stay for the day. Perhaps there is someone in your team who is new to Scouting, take them along to meet some other Scouters and gain new ideas.
Maybe you know of someone who has lost their enthusiasm for Scouting, invite them for the day and hopefully, together we can give them some encouragement. For those of us that simply love and live Scouting, it's a weekend to share that passion - a weekend to refresh, renew, RE-ENERGISE
Ipswich Gang Show 2022
After the cancellation of the shows in 2020 and 2021, Ipswich Gang Show will be back in 2022. Are you interested in being a cast member? Are you aged 10 plus and an active member of Girlguiding or Scouting? The Ipswich Scout and Guide Gang Show is now looking for members to join their cast. Auditions will be held later in October.
The show consists of singing, dancing and sketches and will be performed over Easter 2022. Rehearsals take place every Saturday evening in Ipswich from November until the show dates. Enthusiasm and dedication are just as important as great singing and dancing! Interested? Email This email address is being protected from spambots. You need JavaScript enabled to view it. for audition information.
County Youth Commissioner
Sadly, Caitlin Rawlinson has decided to step down as the County Youth Commissioner. We want to thank her for her service and enthusiasm for this role. The County will be looking to appoint her successor to this important role. If you would like to discuss this opportunity to shape Scouting in Suffolk, please contact This email address is being protected from spambots. You need JavaScript enabled to view it. who will be more than happy to tell you more about this role.
CMAT – Scotland Summer Expedition 2022
Three years ago, we organised a totally terrific trip to Scotland and we're planning to head back up north for more epic adventures in 2022 based at Rothiemurchus Lodge, Cairngorms from Friday 29th July 2022 to Sunday 7th August 2022.
This event is open to Scouts (minimum age 11 years at 29/07/2022), Explorer Scouts, Network, Leaders and other approved adults. The Rothiemurchus Lodge provides superb accommodation in the heart of the Cairngorms National Park. Visit Rothiemurchus Lodge and Home - Cairngorms National Park Authority to have a look around.
The activities will be tailored to the ability and experience of those attending and include: wild camping and mountain walking, rock climbing, canoeing, white water rafting and mountain biking. We will also catch, cook and eat Haggis and see cable-tossing and bag-piping at the Highland Games! Wearing tartan is optional.
More details and registering your interest can be found here – CMAT Summer Expedition
News Items Required
If you have any news to share with the County, please forward details to This email address is being protected from spambots. You need JavaScript enabled to view it.
Produced by Colin Winter on behalf of the Suffolk Leadership Team.