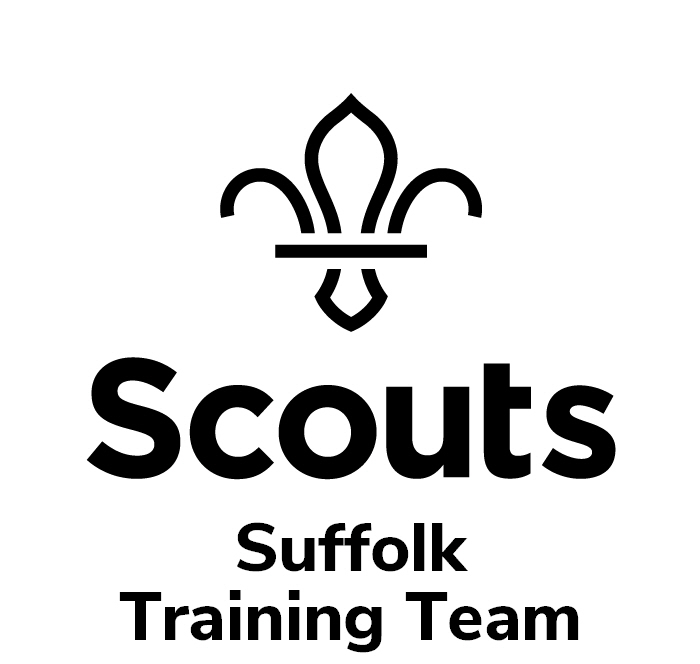 We are here to offer you the best training experience during your Scouting career and we have a dedicated team available to help you deliver the best possible experience for the Scouts in your care, whatever their age... and that includes you too!

It is important that you become a "Suffolk Member" by registering on this website which you do by "creating an account". This is so you can get access to the full range of material on offer... handy Training Calendars, Training Team Contacts, all the latest Training News and booking a course online.
Once you are registered, the "User Menu" has all the Training links available to you.

Registering is a straightforward process; click this link to request an account. You will receive an e-mail confirmation in due course with all the details to log-in.


---

Booking a Training Course - Leaders




Click the Training manager logo (above) and login with your Suffolk Scouts user details. If you don't yet have an account - use the links in the "My Account" box in the left hand menu to request a new one or reminders of username/password.

If you get an Error Message that mentions "too many redirects.." please use a new 'Private' or 'Incognito' browser window/tab to access the training manager page and fill in the required details. If this doesn't solve the issue, raise a Helpdesk ticket.

NOTE: As of January 2016, you will need to complete your "Training Profile" or else you will not be able to book any course. This is to ensure the right people know you are attending the course and also for administration requirements. Once the profle is completed, you may choose the courses. The profile contains your Group, District, the role you attend the modules as and any dietary needs.

Choose your course by clicking on 'Courses' at the top, or use the 'New Booking' dropdown on the homepage.

You may find this handy guide will get you on the way more easily. This will take you through the steps of creating an account with Suffolk Scouts and how to book a course online.



---
Compliance Training Courses

In order to meet the leadership training requirements, several courses have been laid on in districts to meet the need for courses. These are published below as they are received. Bear in mind that priority for places may be for those districts first.

CORONAVIRUS - First Aid Courses and other face-2-face courses all cancelled until further notice. GDPR, Safety & Safeguarding may all be done on-line. See below for details




---
Managers and Supporters Skills Courses

Please see the table below for a list of the courses being run in the East of England Region in 2020. Check on the booking link below for latest information.
September
26
Sat

9:30am - 4:30pm

Acheiving Growth M&S Training (Bedfordshire)
October
3
Sat

9:30am - 4:30pm

Meeting the Challenges M&S Training (Suffolk)
10
Sat
2 days
16 hour first aid course and first repsonse train the trainer (Essex)
24
Sat
2 days
Skills of Management M&S Training (Norfolk)

The East of England Region use one booking system for Managers and Supporters. Use this link to book on. Please note that you can attend any course across the Region, it doesn't have to be just in Suffolk!


---

Latest Training News

The Training Academy is going On Tour in 2020! - (well it managed one session before lockdown :-( )

The weekend academies that have previously held in March & September are replaced this year by the following training sessions.


Sunday 7th June - The Blackbourne Centre in Elmswell - CANCELLED

Saturday 3rd October - Kesgrave Scouts HQ - CANCELLED
---

NEW MANDATORY GDPR TRAINING

With the introduction of the new General Data Protection Regulations, HQ have developed a new e-learning module that is compulsory for all adults to complete.

If you are a new leader, this is now part of your Getting Started training which must be completed within 5 months of your appointment.

Once the e-learning has been completed, please show the certificate to your Training Adviser or send a copy to your Local Training Manager so your Compass profile can be updated accordingly.

The e-learning can be found by clicking this link.


---
First Aid / First Response - Module 10

Available to anyone wishing to complete this module for the first time or as a renewal. Renewals should, preferably, be completed before the current certificate expires to ensure continuous cover.

First Aid training is organised by the Local Training Manager in your Districts when there is enough demand. Please contact your Local Training Manager to find out when your next course is. Please note that all these courses start at 9am and finish at 4.30pm.

Please note - only the First Aid courses that are run at the Training Academies are certified by St. John Ambulance. Courses held locally in Districts are First Response only.


---

On-going Safety Training

This needs to be current at the time of your Appointment Review or after 5 years to keep it up-to-date (where required) - click the link here to start and remember to print the certificate upon completion. This will be required by your Line Manager at your Review meeting. Click here to go to the online training.


---

Safeguarding

The on-line training is an alternative to a face-to-face course and is required to be up to date at the time of your Appointment Review. or fater 5 years to keep it up-to-date (where required). Clickhere to view the introduction and start the training. Print off the certificate on completion for your records. If you have issues with getting this training to work, please read the document below: